Enceladus
Satellite of
Saturn
Diameter
505 km
Discovery date
28 August 1789
Discovered by
William Herschel
Enceladus 
(or 
Saturn II
) is the sixth-largest
moon
of
Saturn
. It is a relatively small moon, with a diameter of just over 500 kilometers, just a tenth of the size of Saturn's largest moon,
Titan
. Enceladus is one of the only three outer
Solar System
bodies where eruptions have been observed, the other two being
Io
and
Triton
, satellites of
Jupiter
and
Neptune
respectively.
Information
Edit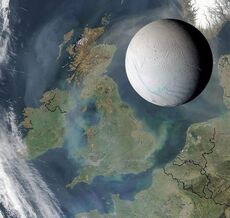 Nearly 200 years had passed since its discovery, when eventually in 1981, Voyager 2 managed to get a close up look at its surface.